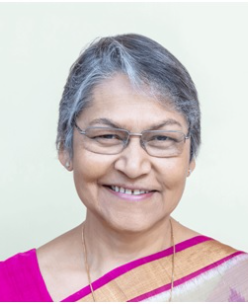 Dr Evita Fernandez
Chairperson of the Fernandez Foundation Hyderabad.
Dr Evita took over the reins of the 40-bed Fernandez Hospital in 1985, which was started by her parents over seven decades ago. Under her mentorship, the Fernandez Hospital grew over the next three decades into one of the most respected names in maternal healthcare, with three hospitals together having 320 beds, two outpatient clinics and a school of nursing. In 2018, to align the Fernandez institutions more closely with their value-based ethical legacy, Dr Evita spearheaded their transformation into not-for-profit entities by bringing them all under the aegis of the newly established Fernandez Foundation.
A passionate advocate of normal birthing, Dr. Evita believes in the need to empower women to make choices with regard to issues surrounding birth. Global evidence has shown when midwives are educated to international standards and midwifery services form the backbone of a country's maternal health care it could avert more than 80% of all maternal deaths, stillbirths and neonatal deaths. It was this belief that motivated her to launch the two-year in-house Professional Midwifery Education and Training (PMET) Programme in August 2011.
In 2017, thanks to her persistent advocacy, the Fernandez Foundation, in collaboration with the Govt. of Telangana and UNICEF launched an 18-month certification programme in midwifery for nurses from the state's healthcare system. The course was designed to global standards set by the International Confederation of Midwives, making Telangana the first state in India to have an 18-month training programme of such quality.
Dr Evita is a prolific speaker and has presented numerous scientific papers at national and international conferences. She has contributed chapters in textbooks and is also the recipient of several awards
Dr Evita completed her MBBS from St. John's Medical College, Bangalore in 1976 and secured her DGO from Osmania University in 1980. She obtained her membership of the Royal College of Obstetricians and Gynaecologists, London in 1983 and was conferred a Fellowship in 2001.
She is the Managing Trustee of the Dr. Leslie J. Fernandez Memorial Charitable Trust and the Fernandez Hospital Educational and Research Foundation.