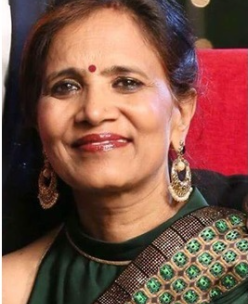 Dr Neelam Aggarwal , Professor , department of obstetrics & gynecology , PGIMER , Chandigarh.
Awards & Honours

Co- author of second prize winner poster titled "Classifying stillbirth in a tertiary care hospital of Northern India- ICD-PM versus Simplified CODAC" at the Obstetric Medicine Update -2018 on 1st 2nd December 2018 at Hyderabad- Awarded by Dr Jason Gardosi (Director, Perinatal Institute UK).
IOG Dr Stya Paul Awards 2019 for excellence in menopause Research & Services.
One of the published papers picked up by John Hopkins &awarded Level 1b Evidence.
National President of Indian Menopause Society 2018-2019.
Profile

35+ years clinical work experiencein Obstetrics & Gynecology in North India's premier tertiary facility.
Looking after MSD ( Medical surgical disorders in pregnancy) , CO ( Cardio obstetric ) & menopause clinics since 24 years.
10+ year's experience with SEAR NBBD as a Principal investigator and surveillance expert Publications in peer reviewed journal, presentation at national &international conferences.
Working group member of various advisory groups of International stillbirth alliance (ISA) including Still birth advocacy working group (SAWG), ISA bereavement group (IBeWG), Parent voice initiative advisory group ( PVIAG).
Work Experience

A. Clinical

Professor in the department of Obstetrics &Gynecology, PGIMER Chandigarh, India. Second ranked academic & research institute in India with tertiary patient care.
Coordinator for monthly and annual interdepartmental perinatal death review committee and part of perinatal audit team for stillbirth surveillance review & response under NBBD.
Providing bereavement care and running a postpartum OPDespecially for bereavement care for women with adverse perinatal outcome (stillbirth, neonatal deaths and ETOPFA).

B. Education

Involved in clinical and surgical training of Postgraduates, Fellows, Nurses & Technicians.
Member of committees for various consensus documents & clinical practice guidelines.

C. Research

Peer Reviewer for many indexed journals like BJOG, BMC, JMH, LGH etc.
Chief Editor - journal of mid-life health(JMH) 2016-2018.
Associate Editor - BMC Women's health 2019-2020.
Senior member Editorial Board BMC Women's health 2020- present.
Research in Still birth, GDM in collaboration with various International collaborators WHOSEARO, UNFPA, Still birth centre of Excellence (CRE) Centre for chronic disease control, Australia.
Principal Investigator India for PVI advocacy tool kit project of ISA sponsored by PMNCH and phase 2 by WHOSEARO.
Principal Investigator India for COCOON Global study.
Stillbirths Surveillance experience in collaboration with WHO-SEARO/ ISA

Pioneer for SB surveillance in India in collaboration with WHOSEARO
Principal investigator Coordinating Newborn Birth Defects and stillbirth surveillance network- responsible for 10 hospitals of northern India with high delivery load (>5000 per year).
Managing data collection, ensuring all center submit complete accurate and timely surveillance data. Collaborate with WHO office to manage data analysis, verification and reporting to track progress.
Master trainer for capacity building, implementation and monitoring of birth defects and stillbirth surveillance in India and other NBBD participating centers in the Region.
Pioneer in starting bereavement care in India following pregnancy loss. Just validated and tested the tool.Started since 1 year.
Invited speaker by WHOSEARO at various regional, & international meetings to share experience on still birth surveillance.
Member of SAWG and BeWG( Still birth advocacy working group and bereavement working group.
Regional coordinator (RC) for still birth advocacy Asia Region.
Facilitator for SBSR trainings & MPDSR trainings by MCGL& WHOSEARO.
Resource Person for

Various National workshops on strengthening birth defects and still births surveillance.
Training on BD surveillance and still birth surveillanceby Family Health Division, Department of Health Services, Ministry of Health.
Workshops on "Strengthening National Network for Newborn, Birth defects and Still Birth in SEAR countries.
Revision of technical documents to adapt ICD PM Classification system for classifying Stillbirths from simplified COD-AC to ICD-PM classification system.

Publications

Research publications in various peer reviewed journals- 193.
Chapters to books-14.